Just under the rock of Acrocorinth, amidst a sea of conventional grape monoculture plantations is a mosaic of small-scale organic farms.
Being one of the first regions of Greece where mechanized conventional agriculture took hold we are now farming in marginal circumstances. In Greece, only 1% of arable land is organic. And the austerity measures still affect 99% of the country population.
In Greece, late stage capitalism is testing new ways to create cheap and flexible labor forces. But we are testing new ways to resist, and to improve our conditions as dignified human beings.
This starts with preserving our food systems and natural resources, also to secure minimal social justice. In the area of Corinth we – a dozen of young and old organic farmers – have started a solidarity export project. A firm if undersized response to Greek economical situation. A response that can only be undertaken hand in hand with our customers abroad, as solidarity is key to the global crisis.
---
The Cooperative
---
We are a network of a dozen of young and old, small scale, low impact farmers. We cultivate organic produce all year round :
We also collectively process the fruit of our labour in a natural way, to produce :
Our intention is to cultivate in a just and fairway, respecting ourselves and the earth and provide a living soil to the next generation.
---
The Cooperators
---
History
Values & Philosophy
Statutes & Legal Documents
---
Farms & Farmers
Antonis Diamantidis – Parmenion Gatos – Eva Panteli – Marina & Vassilis (Colibri) – Areti Zacharopoulou
Antonis Diamantidis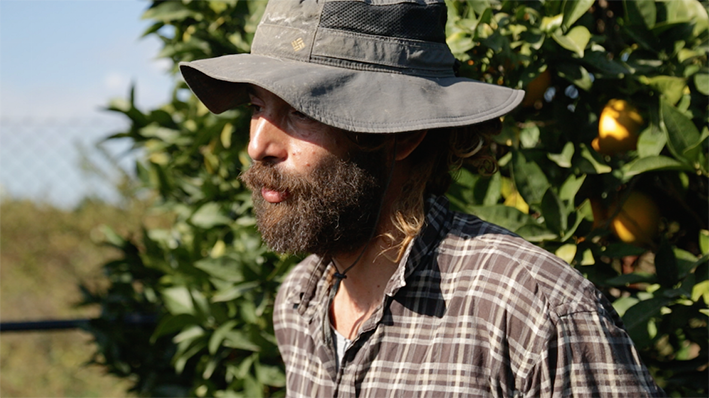 >> Visit Antonis'Orchard on the Koinobio's online Gallery !


---
Parmenion Gatos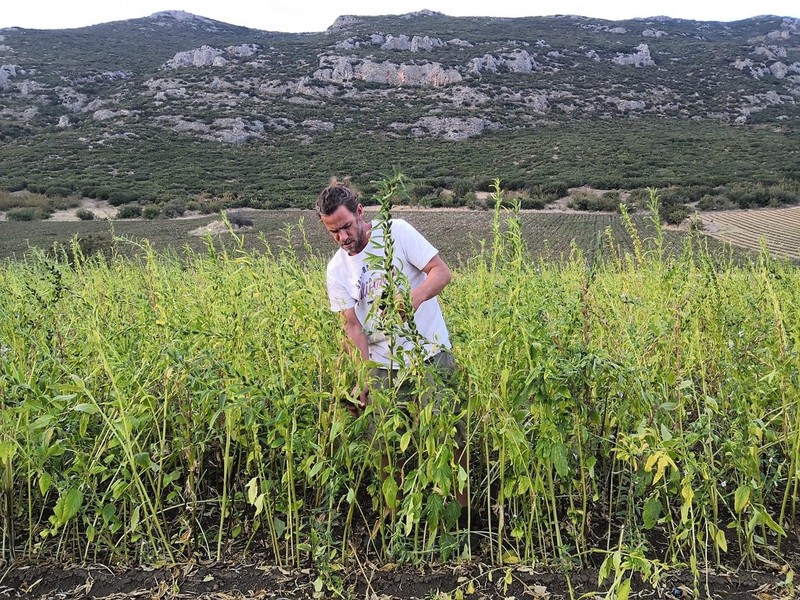 I come from a rural family and so when in 2004 when I finished my studies and obliga ons in the army I started working professionally in agriculture. In the beginning I con nued what my father did, with arable crops such as co on, corn, cereals and animal feed, but at the same me, little by little, over the years I became involved in organic farming.

Now I have created my own organic farm 'Tysanos' (Θύσανος) and I grow plants such as sesame, cereals, industrial hemp, lavender, and some animal feed and in some of them with local traditional varieties.

I am a member of the Social Coopera ve Enterprise 'Cannabio'  and also a member of the cul va on group of AEGILOPS – Network for Biodiversity and Ecology in Greece. I am involved in organic farming because I believe it is the only way to better food, and a better environment.

Sesame, Sesame paste (Tahini)

I cultivate a traditional variety of sesame (brown sesame) since 2012. The cultivation is a marriage between traditional and modern techniques. Harvesting we do by hand, we cut the sesame while still green and make into bails that are stacked standing in the sun to dry. After they dry, we shake them on cloths by hand, then the seed is cleaned of foreign matter and goes for grinding. This was we assure the best quality for the sesame seeds. The processing is done in a partner in Athens, it is washed, roasted at a low temperature at
60 degrees and ground in a stone mill, with its bark and it becomes wholemeal tahini. All with the standards of organic production and processing. It is controlled and certified by BioHellas.

> Visit Parmenion on the Koinobio's online Gallery !
---
Marina & Vassilis – Colibri Essential Oils
Marina and Vassilis are partners in both life and work. They live in the island of Naxos, in the Cylcades, Greece.
Vassilis abandoned a job of civil engineering to become an organic farmer and Marina used to work in France in popular and environmental education.
They both came to the uses of plants for the necessity to reconnect with the therapeutic uses of plants, first for themselves and then turned a common interest into a professional project.
They acquired their skills and knowledges about herbs by self-teaching, seminars, and from persons who shared their knowledges with them.
The plants are wild-harvested by hand in selected areas in Naxos and Peloponnese, as far as possible from any kind of pollution and urbanized areas. The collect of the herbs is done, as much as possible, according to the moon calendar.
The distillations are done in a small stainless steel still and the essential oils are then stored in dark glass bottles.
>> Visit Colibri on the Koinobio's online Gallery !
---
Areti Zacharopoulou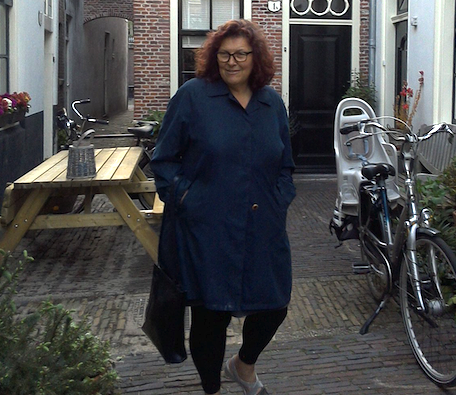 Since she was young, she was taking care and loving plants and especially herbs.
Her professional work started three years ago when in the mountain village of Pyrgos, situated in the foothills of Mavro Oros in the municipality of Xylokastron-Evrostini in North Peloponnese and on an altitude of 650m, she acquired almost two acres of land. In one of them, she grows herbs and in the other one olive trees, walnut trees, fruit trees and a part of it she maintains as a forest.
Her passion for natural and biological cultivation led her to choose the organic way. The seedlings are bought from a special bio-garden and the soil was weeded and tilled using mechanical means. Afterwards, the seedlings were hand-planted and since then she grows her herbs while her cultivation is certified as biological by a company named DIO (www.dionet.gr). All her plants grow without fertilizers or pesticides or weed killers. Herbs don't generally need irrigation, except for lemon balm.
She cultivates her fields on her own. Weeding and harvesting are done by hand so the essential oils remain in the plants. The harvested herbs are then tied in bunches and hung in dark and well-ventilated room to dry naturally and maintain their colour and flavours. Dried herbs are stored in cotton sacks in a cool and dry place. Before their delivery to customers, leaves are removed from their woody stems by hand. All products are packed in airtight paper bags suitable for food and packaging is also certified by DIO.
I guarantee my customers that cultivation and handling of herbs are done with great attention and love and quality control is carried out at each stage of production. Since aromatic-medicinal plant users are always looking for the best quality to enjoy all their benefits, I must offer them only the best quality.
>> Visit Areti on the Koinobio's online Gallery !
---
Eva Panteli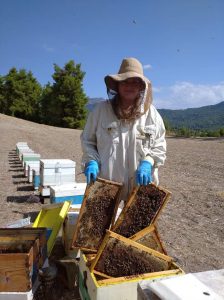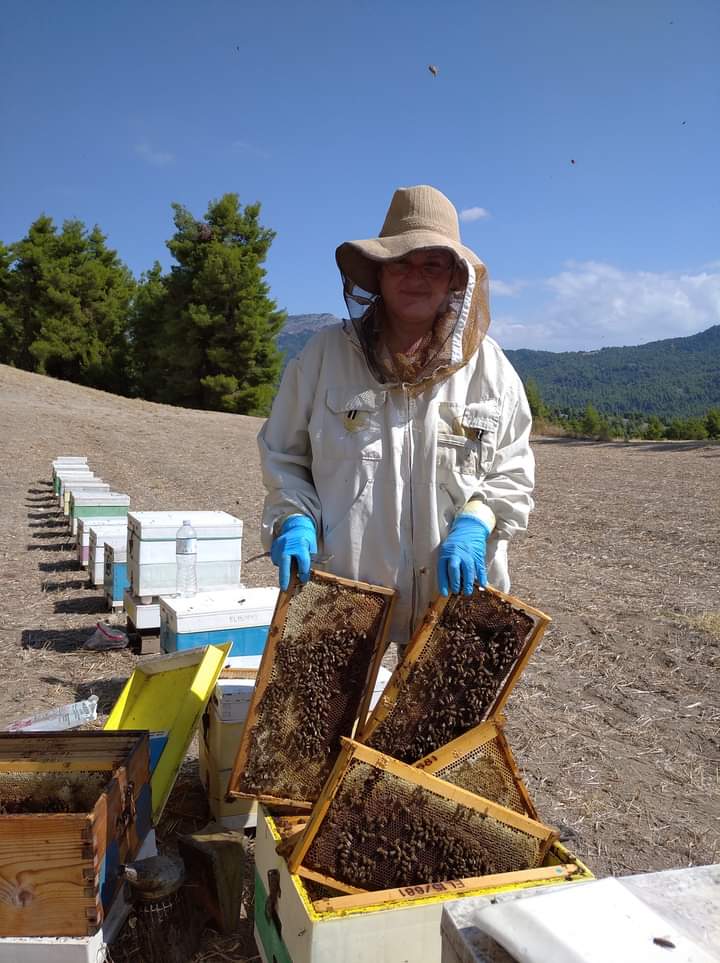 My name is Panteli Eva and i am a professional beekeeper specialized in the processing of beekeeping products. From an early age my love for bees and nature led me to follow this career.

Me and my family we own a small production unit of about 250 bee herds. I am collecting honey from a variety of blooms all over Greece depending on the ecosystem.

My major concern is the quality of the product without  neglecting the bee care.

My involvement with beekeeping led me to the production of natural cosmetics that in its composition includes beekeeping products. I have attended numerous seminars in private and public bodies related to my subject and I have a certification of manufacturing natural cosmetics from the Kapodistrian University of Athens.

I produce all beekeeping products I use in my preparations from my apiary. 

I am a beekeeper instructor and I have delivered seminars regarding natural cosmetics, soap and beekeeping products processing at the School of Agriculture Peloponnese as well as in beekeeping associations.
>>

Visit Eva on the Koinobio's online Gallery !